If you are looking for a great experience on the snow this year come snowkiting with us !
Snowkiting is amazing, effectively kitesurfing on the snow while also being free to explore the mountain terrain on skiis or board, ride through endless fresh powder and float down the slopes with your kite – join us for a long week of fun in the Alps.
In collaboration with The Kitesurf Centre, one of the best kitesurfing school of England, we organise snowkiting holidays suitable for both beginners and advanced riders.
We are located in the region of Aosta in the Italian Alps just a couple of hours drive from Milan. This lovely location is on a flat area with rolling landscape and consistent winds with steeper slopes behind for more advanced and adventurous riders! There are also a number of different fantastic snowkite spots in the area so we will chose the most suitable depending on the daily forecast.
No matter what your level, we've got you covered !
If you are a complete beginner then the three day course is the perfect options as it will leave a few days spare for practice your riding and other activities.
If you already kitesurf or kite landboard and just want to transfer your skills over to the snow then we can arrange a tailor made lesson (cross-over) to get you started so you can then ride all week.
Private tuition and coaching is also available.
If you are already proficient, the school offers hire of depowerable foil kites and snowkite harnesses.
The lessons include all the equipment needed for snowkiting apart from the skis/boards and boots. If you don't have your own is possible to get them at the local hire shop.
Accommodation
We suggest you to stay in our partner hotel, Hotel Des Roses, a lovely Alpine Chalet hotel located in Villenueve. This is a little village located at the base of the valley, a strategic position for us as from here is easy to drive to all the different snowkite spots around.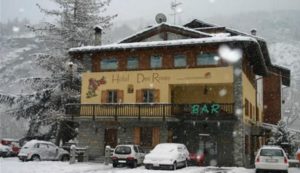 no wind activities !?
The wind is very consistent in all our spots, but in the unlikely event of unsuitable winds or if you fancy a change there are lots of other amazing activities to do around here.
For some alpine skiing/boarding, Pila, Courmayeur, La Thuile and Cogne ski resorts are nearby.
There is also a very vast choice for backcountry tours, freeride and heliski services.
To relax after your session you can go to Prè-Saint-Didier's Terme, and of course you cannot miss out not trying the delicious local food.
We usually organise the event in the middle of March.
To book or to get more information, please contact us:
Email: snowkitingcentre@gmail.com Phone: +39 346 6167056
---