1 DAY COURSE  (4 hours)     
The 1 day begins with a theoretical part that will allow you to understand and learn how to analyse the weather conditions, the spot, the equipment, the effects of the wind, the area where the kite will fly and so on. It will then go on by flying the trainer kite facing different techniques and movements. You will also learn how to set-up a 4 lines kite, the launching, the piloting and the landing safely and under control. Once you are confident with the kite you will be introduced to the board or ski, and you will start practising your first runs. Although the number of informations you will have to learn throughout the first day is fairly high, day 1 is 80%practical, and you will spend most of the time piloting the kite.
Goal: learning ho to performe a complete analysis of the spot, a correct kite set-up, launching, flying and landing it safely and under control.
Price:  99 euro
The second day will start with your feet on your snowboard or ski right from the level that was reached in day 1. You will practise how to ride back and forth till you become familiar in coordinating your kite and board/ski. Then you will start trying riding in all directions: broad reach, across the wind, upwind, uphill and downhill.
Goal: be able to move safely in more directions.
Price:  189 euro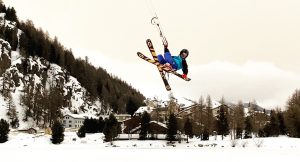 On the third day you will master your riding skills to become a more complete rider like edging hard upwind, flying techniques to go uphill, toe-side and hell side. Finally if the student will have demonstrated capacity, also transitions and the theory for your fist jump.
Goal: become an independent rider, go uphill, ride toe-side and do a transition.
Price:  279 euro 
A more specific lesson, one to one with the instructor, all the focus on you. For those who like personal training and want to improve quickly.
Price:  59 euro per hour
Ideal for friends or couples that would like to share this experience together with an instructor fully dedicated to them.  
Price:  75 euro per hour
The hire of the equipment (kite, bar, harness) is 70 euro for the whole day. To hire the gear you will need to show a certification of your level of riding independency. 
Please note:
Snowboard / ski and boots are NOT provided by the centre, you myst bring your own. 
Everyone willing to attempt the courses needs to be able to ski down a red slope. 
To partecipate to our activities is mandatory to submit the membership to our sport association that includes insurance and it's valid for 1 year. The cost of the membership card is 30 euro.
Course video service available